Discover more from Mind Matters
Exploring the relationship between consciousness studies & emancipatory social science.
Over 2,000 subscribers
Dear Humans,
Finally, after 26 years of living, 6 years of immersive study, and 4 months of writing alongside 7 other fellowship participants, I've published a lengthy essay that bridges my two worlds of interest - consciousness and economics:
Universal Basic Income and the Capitalist Production of Consciousness.
And, of course, the image I made for it: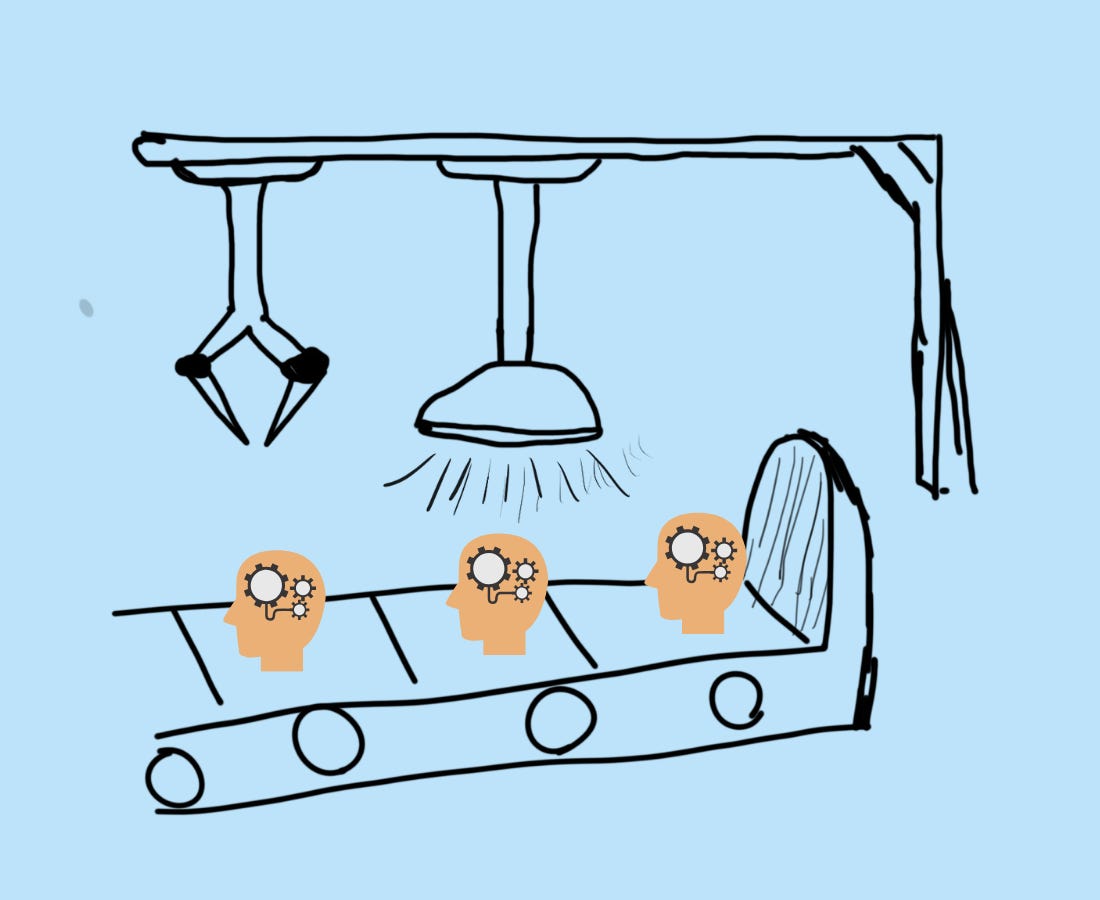 Here's the scene: economic systems function as evolutionary environments through which human development occurs. Since the 1970's, a financialized digital capitalism - hyper-capitalism - arose that is marked by immaterial modes of production capable of converting attention into capital.
This grants the logic of capital a 'way in' to the mind, inaugurating the commodification of consciousness itself. The commodification of time restricts optionality: we can only do that which earns. But the commodification of consciousness takes this further: we can only be, feel, experience that which contributes value to machine learning algorithms.
By monopolizing the production of consciousness, hyper-capitalism grants the invisible hands of capital full control over the reigns steering human development.
Basic income is uniquely suited to intervene in this situation. In market societies, unconditional income functions as decommodified time. Decommodified time expands the spectrum of viable behaviors by lessening the imperative to earn a financial return on what we do with our time.
By reducing the strictures imposed by economic insecurity, behaviors tend towards the experimental and exploratory. More things become possible.
Put differently: Basic income can be understood as a psychedelic policy that changes how consciousness develops within society, nudging the trajectory of human development beyond the interests of capital.
The essay is split into two questions:
How does hyper-capitalism produce consciousness, and what kinds of consciousness does it produce?

How might basic income intervene in this process?
If you're interested, consider checking out the full essay:
---
I regret to inform the world that I've appeared on a podcast
If you're more into listening than reading, I discussed the essay with David Perell - who put the fellowship together - for an hour over on the Write of Passage Fellowship Podcast.
You can listen to the podcast here.
If you prefer Youtube, it's there too, frozen on quite the flattering frame:
---
The whole of life should probably be different, be we don't really think about that
I'm reading Robert Musil's unfinished novel, The Man Without Qualities. It's about a man named Ulrich who, as his friend Walter exclaims from a piano bench in exasperation to his wife, for whom mere proximity to Ulrich invigorates a sense of life that otherwise remains dormant deep inside her, "has no qualities!".
When talking about my essay, I'm often struck by flashes of embarrassment. It's kind of absurd to write about changing the course of human development, and thinking I might have something worth saying about it.
But, while Ulrich stood quietly in the streets of 1950's Vienna one sunny afternoon, he set me straight:
"…as one got older and on longer acquaintance with the smokehouse of the mind, in which the world cures the bacon of its daily affairs, one learned to adapt oneself to reality, and a person with a trained mind would finally end up limiting himself to his speciality and spend the rest of his life convinced that the whole of life should perhaps be different, but there was no point in thinking about it."
It's now or never. Better write about changing the world while we still can, until we've grown so adapted to it that we think we know better.
Ironically enough, this is a common idea. In André Breton's Manifesto Of Surrealism (1924), he writes:
"This imagination which knows no bounds is henceforth allowed to be exercised only in strict accordance with the laws of an arbitrary utility; it is incapable of assuming this inferior role for very long and, in the vicinity of the twentieth year, generally prefers to abandon man to his lusterless fate."
Ulrich describes it well. He muses that we've grown very skillful at developing the mind into specialized categories, but quite terrible at applying it to life on the whole.
"…there was certainly an abundance of mind around, the only thing wrong was that the mind itself was devoid of mind."
Mind devoid of mind…
---
Planning for a Post-Covid World: the Dutch Economic Manifesto
In the midst of Covid-19 turmoil, 170 Dutch academics put together a 5-point manifesto, "Planning for Post-Corona". They write:
"The fact that COVID-19 has already had such a major economic impact is due, amongst other factors, to the economic development model that has been dominant globally over the last 30 years."
Here are the give policies:
1) Move away from development focused on aggregate GDP growth. Create sector-specific growth & degrowth targets (we want growth in education and clean energy, but degrowth in mining and advertising, etc.).
2) Progressive taxation that funds universal social policies, including basic income and reduced working hours.
3) Shifting agricultural practices towards regenerative agriculture with a focus on biodiversity conservation.
4) Reducing levels of excess consumption and travel
5) Debt cancellation focused on workers, small business owners, and countries in the Global South.
Economic anthropologist Jason Hickel translated and shared the key points on Twitter:
But the manifesto itself is just over 1-page long, and well worth reading. You can read it here.
---
New Structures of Feeling
The science fiction writer Kim Stanley Robinson wrote a phenomenal essay in the New Yorker: The Coronavirus and Our Future.
Each historical period, he writes, has its own structure of feeling, its own "way of experiencing being alive." He suggests that this crisis is marking the end of the neoliberal structure of feeling, and whatever we do know will co-create whatever comes next.
Encapsulating so much of what I was trying to say in my essay shared above, he writes that the ways we experience being alive are tightly coupled with the economic conditions they're embedded within:
"A structure of feeling is not a free-floating thing. It's tightly coupled with its corresponding political economy. How we feel is shaped by what we value, and vice versa. Food, water, shelter, clothing, education, health care: maybe now we value these things more, along with the people whose work creates them."
Economic insecurity has been woven into our structures of feeling for, well, maybe ever? This is why I think basic income is far more than just another economic welfare program: it could fundamentally redesign the basic influences that feed into how we experience being alive.
Consciousness is "tightly coupled with its corresponding political economy." This is why I write about basic income as a psychedelic intervention: it has everything to do with changing the kinds of consciousness that society produces.
Robinson's whole essay is well worth a read.
---
That's it.
As always, you can respond directly to this email with thoughts or suggestions, or reach out on Twitter. Let's start a conversation.
If you have a friend who might enjoy this newsletter, consider sharing it. The more people on this network, the more possibilities we can cook up.
Until next time,
Oshan